This Watermelon, Feta and Mint salad is similar to the one we have available. In many ways, the watermelon, feta, and mint salad resembles a classic Caprese. The main difference between the two is this salad is much more forgiving when it comes to improvising. But before you can do that, it's important to remember the foundation of ingredients.
THE MELON
The first step to a great watermelon salad is finding a great watermelon. Look for watermelons that feel relatively heavy for their size. Watermelons that grow too fast or big can end up with hollow cracks and crevices, making them feel lighter. These watermelons typically also have a more watered-down flavor. Dense watermelons should taste sweeter and have a better aroma. Look for melons that show signs of a clean break at the stem. Watermelons, like all fruit, are attached at one end to their parent plants. When they reach peak ripeness, the stem will often automatically detach, leaving a clean crater behind. When the melons are picked less ripe, the stem often refuses to break free cleanly, leaving behind part or all of itself at the attachment site. This doesn't mean all watermelons with some stem attached won't be good, many still are, but a clean stem crater is generally a very good sign. Tap the watermelon with your knuckles. Watermelons that sound very hollow…probably are. So avoid 'em. Lastly, look for smaller varieties. Smaller melon varieties often (but not always) have more concentrated flavor.
THE FETA
Believe it or not Feta comes in a variety of different types. Feta is a fresh cheese that's made by soaking pressed curds in a salty brine. The bottom-shelf brands, made with cow's milk, generally emphasize the brine flavor over anything else. They tend to have a very dry, crumbly texture, and saltiness without much tang. What you really want to look for is sheep's-milk feta, whether domestic or imported from Greece or Bulgaria, which should have a much creamier texture and a flavor that balances saltiness with the characteristic funk of sheep's milk. That creaminess is important! It's what gives you a texture that contrasts with the crisp watermelon, making it taste all the more refreshing.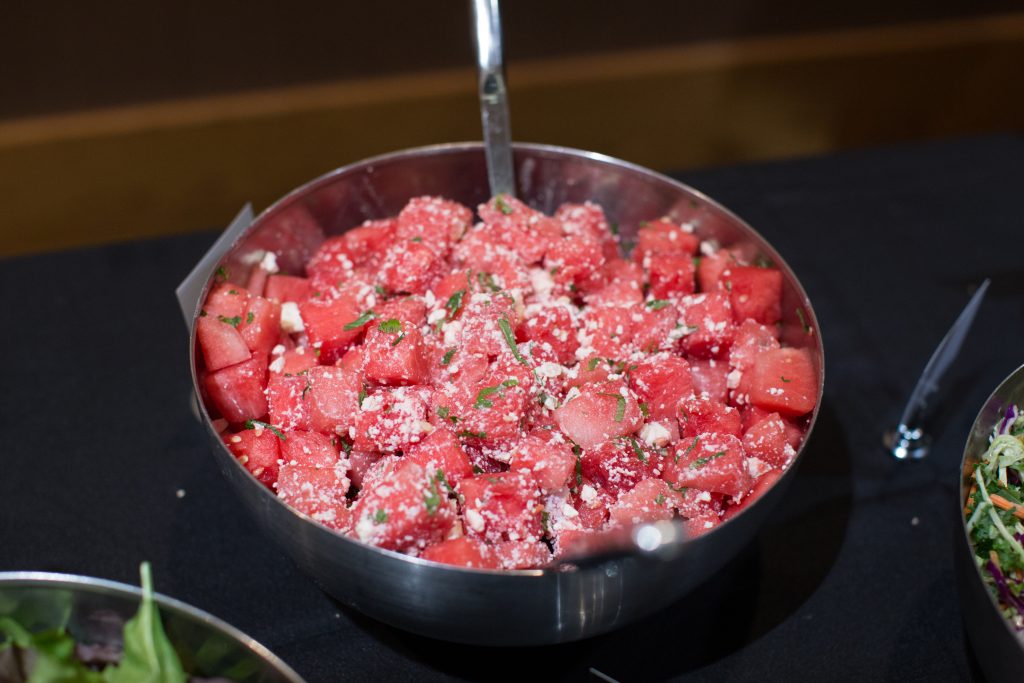 Why It Works
Sweet watermelon, salty feta, and mint are a classic pairing.
Adding a good dose of chopped lemon zest enhances the aromatic flavors in the watermelon.
Crumbling the feta over the top instead of tossing it together with the rest of the salad provides a more interesting finished texture and flavor.
Ingredients
3 pounds seedless watermelon (about 1 small or 1/4 large), rind removed, cut into 1-inch chunks (about 2 pounds)
1 tablespoon juice from 1 lemon
3 tablespoons extra-virgin olive oil, plus more for drizzling
1/4 cup roughly chopped fresh mint leaves
Up to 4 ounces arugula leaves
Kosher salt and freshly ground black pepper
4 ounces feta cheese
Directions
Place watermelon chunks in a large bowl. Finely chop lemon zest. Add lemon juice to bowl with watermelon. Add oil, mint, and arugula (if using) and toss until watermelon is evenly dressed. Season lightly to taste with salt and pepper. (The cheese will add saltiness, so go light on the salt at this stage.)
Transfer salad to a wide, shallow bowl or a large plate and spread out evenly. Crumble feta over the top. Sprinkle with remaining lemon zest. Drizzle with more olive oil and a few grinds of black pepper. Serve immediately.
Serves 4-6
A'BriTin Catering & Hospitality wants you to enjoy summer a little bit more with a refreshing watermelon, feta and mint salad 
A'BriTin Catering & Hospitality is the premiere catering provider for Minnesota businesses and residents looking to celebrate their most important occasions. Our mission is to listen to our clients and treat them like family to provide a meaningful, trusting, and lasting relationship.
We have the right brand for any catering need and bring experience in all types and sizes of events. Whether it be buffet style, a formal sit-down dinner, or a series of stimulating and tantalizing food stations, you and your guests will be amazed by the core values, colorful food arrangement and display, and professionalism of A'BriTin Catering & Hospitality from beginning to end. Our ultimate goal is to complement your important day with a meal and service that will be remembered for a lifetime.
Our brands:
To learn more about our various brands and our unique and professional approach to weddings and other special events in Minnesota, please contact us at 612-339-0222 or via email at info@abritincatering.com. You can also request a quote. We can't wait to hear from you and help you create an event to remember.