It finally happened. Your significant other finally popped the question. Whether you've been dating for months or years, this is a big milestone. And with the tremendous joy and excitement of agreeing to say "I do" at some point soon, in front of your family and friends, you also may be feeling a bit of anxiety. This is to be expected and shouldn't come as a surprise. In fact, many couples have learned to turn that feeling of anxiety into a positive and productive energy that ignites the process of wedding planning.
Aside from setting the date for the big day, where should you start? The biggest step is to determine your preferred venue for your big day. After that, one of the biggest decisions you will make will be the selection of your caterer. This indeed can be an overwhelming process. Often, the caterer selection process becomes easier as many venues work with exclusive caterers, and this can make your selection process much easier. You can trust that your venue will only work with the best, and the partnership between venue and caterer will be solid and they'll know how to work together to ensure that your big day goes off without a hitch.
Whether you will be working with your venue's exclusive caterer or you will be on your own to select a caterer, there is one absolute must-do that should take place during the process. We encourage all couples to attend a group tasting with their caterer. Private tastings are an option as well. However, based on decades of experience in the catering and wedding planning space, our experts at A'BriTin Catering and Hospitality recommend that couples attend group wedding tastings if one is available.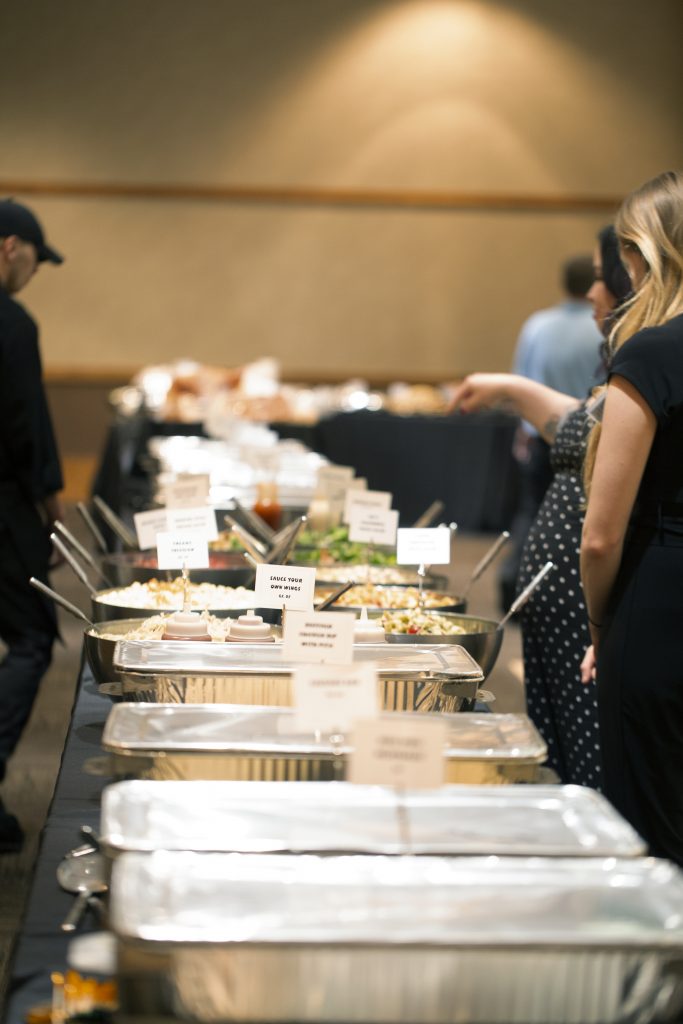 8 reasons to attend group wedding tastings
Not sure why group wedding tastings are so much better than a private tasting experience? Check out our reasons why:
More food, more selection. At private tastings, you will often be limited in the amount of food that you will be able to try. You will likely have to select menu items in advance and your caterer will prepare those items for you to try at your tasting. But this means that you miss out on the opportunity to try other foods that you might not have considered. And, it means that you won't be trying the food in the manner that it will be prepared for your wedding (in a larger volume) which means you aren't getting the true experience of what your food will be like at the event. Of course, with an experienced catering team such as A'BriTin Catering & Hospitality, they will be able to provide you the same quality in masse, it is important to make as much of an apples to apples comparison as possible.
See what other people like. We all have our own tastes and preferences. While you should select menu items that you will enjoy at your wedding, you want to ensure that most of your guests will enjoy those same items. When you attend a group tasting, you get the advantage of seeing what other people in the room are enjoying. This can provide some vital information that you will want to consider when you work to narrow down your final menu selections.
Experience pairings. With a group tasting, your caterer will likely prepare far more items for you to try than what you can experience if they are just creating a meal for two. This means that you can sample multiple entrées and side dishes to see what you like paired together. You will also get the added advantage of the chef's recommendation, which is always a bonus.
Get ideas. In a group tasting setting, you will have the opportunity to meet other couples that are preparing for their own special day. This means that you can idea share. Perhaps you'll get great recommendations for your photographer, hair and makeup stylists, invitations, or more. Additionally, remember that these couples have been having their own conversations with your caterer (because it is their caterer too), so you can gain peace of mind as you hear about their selections, especially if you haven't yet made up your mind on something.
Get physical. Attending a group tasting gives you an opportunity to physically experience the napkins, plate arrangements, and more. This can be much easier done in person than when looking at place settings on the internet. Many couples find it far easier (and reassuring) to actually touch the plates and napkins instead of trusting what they see online.
See the staff in action. At a group tasting, you will have the opportunity to see far more of the catering staff than you would in a private setting. Many couples enjoy watching how professional catering teams make these experiences seem so seamless. Not only that, but you may have the opportunity to meet one of the chefs, sous chefs, caterers, or bartenders that will be working your event. This can create great connections and can also help reassure you that you are in excellent hands.
Be a guest. Let's face it, on your wedding day, you will be pulled in a lot of different directions. The group wedding tasting experience provides you with the opportunity to see your event through the eyes of your guests. So, take advantage of this. Try those butler-passed apps and see how things go when eating a small appetizer on a stick. If it is messy for you at the group tasting, it will be messy for your guests on the day of the wedding. Try those questionable items now so that your caterer can help you mitigate any risks and can demonstrate to you how appetizers will be passed and enjoyed on the day of your event.
Take notes. Don't forget to bring your pen or pencil and make notes about what you liked and didn't like. This will help you have a far more productive conversation with your food and beverage coordinator during your next conversation. You'll appreciate having your own new-found knowledge and your coordinator will also enjoy having a more knowledgeable conversation with you.
A'BriTin Catering & Hospitality provides group wedding tastings and an experience that you'll never forget  
A'BriTin Catering & Hospitality is the premiere catering provider for Minnesota businesses and residents looking to celebrate their most important occasions. Our mission is to listen to our clients and treat them like family to provide a meaningful, trusting, and lasting relationship.
We have the right brand for any catering need and bring experience in all types and sizes of events. Whether it be buffet style, a formal sit-down dinner, or a series of stimulating and tantalizing food stations, you and your guests will be amazed by the core values, colorful food arrangement and display, and professionalism of A'BriTin Catering & Hospitality from beginning to end. Our ultimate goal is to complement your important day with a meal and service that will be remembered for a lifetime.
Our brands:
To learn more about our various brands, our unique and professional approach to weddings and other special events in Minnesota, and to learn more about an upcoming group tasting event please contact us at 612-339-0222 or via email at info@abritincatering.com. You can also request a quote. We can't wait to hear from you and help you create an event to remember.