Trying to elevate your special holiday meal? Brighten up your table with the centerpiece! Centerpieces have been the focal point of meals ever since formal dining was invented. Traditionally the centerpiece was made from precious metals to exude wealth. However, nowadays their goal is to create a welcoming environment and spark conversation between unfamiliar guests. 
Compelling centerpieces use elements of nature to celebrate the gifts that each season brings. The wintertime displays vibrant green colors in evergreen foliage. Try using a mix of Cypress and Hemlock leaves to add a variety of textures. Holly and Gardenia are great plants to add a pop of natural red and white colors. A few candles can add a warm vibe to the table but overdoing candles could become a distraction. This is your meal so make sure to have fun with it!  Add your own ideas that may complement the occasion or items that relate to your family or the group you're hosting.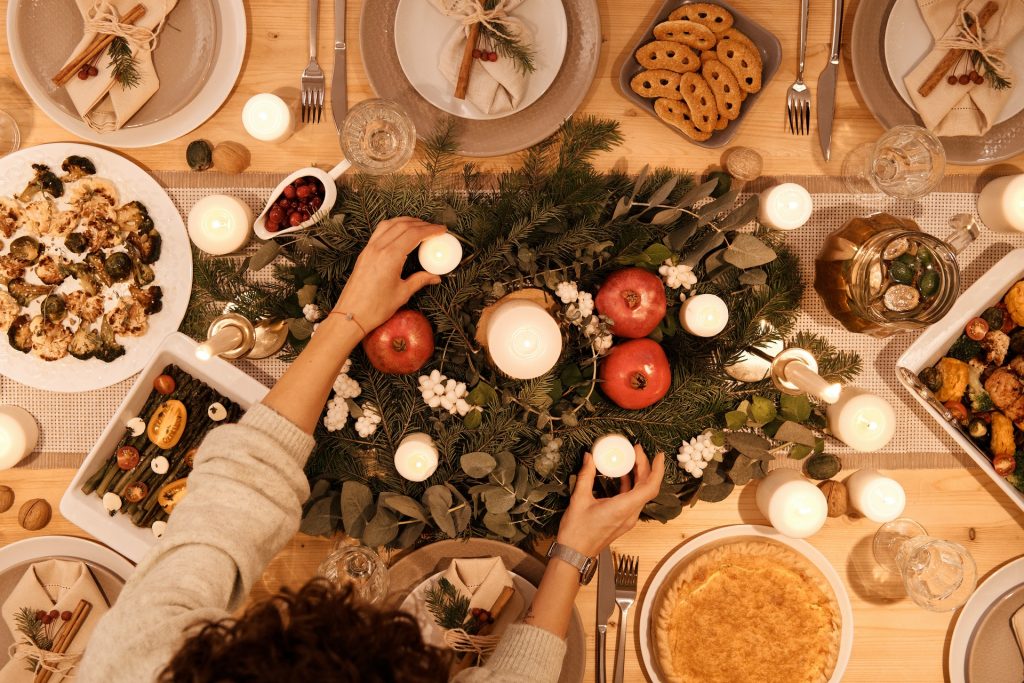 Ok now I've got all these plants, how do I make this a centerpiece!? The easiest way to keep your plants vibrant and displayed nicely is to find wet floral foam. The foam will keep your foliage secure and hydrated maximizing the life of your centerpiece. Display your centerpiece on a raised platform to create depth on the table. This will also display your work of art better for admiration even before people sit down to eat. Be sure to not make it too tall or you'll obstruct the view of guests having conversations during your meal. If you're going for a more elegant feel this holiday season use a silver display. Or if you're trying to stay cozy, you can find wood slices for a more organic look. 
We hope these tips help inspire your hosting creativity this holiday season. Hosting a big meal can be daunting, so keep it simple. Bring your guests closer together over the holidays by tying your meal together with a beautiful centerpiece!
For more fun entertaining ideas, check out our Pinterest!