Vanessa was amazing to work with!! So responsive and informative!! The Mac and cheese was amazing! Vanessa helped us meet all of our dietary restrictions of our guests as well! The pulled pork was amazing as well.
James worked with me from the start! It was such a relief to know I didn't need to worry about the food the day of the graduation party! I knew after going to the food tasting and working with James everything was going to be great!
The gentleman who served our pig roast was top notch, extremely professional and respectful! Including Vanessa and Jordan who were over the top amazing! Vanessa, who helped us plan our menu accordingly to our guest was so amazing to work with! She helped us every step of the way constantly checking on on us and making sure we were feeling ready and prepared for our big day.
I originally found This Little Piggy as it was a recommended vendor for our venue, and I can absolutely tell why it is. I started with the online calculator and was immediately reached out to for recommendations, and everything was very clear about ordering. It was great to have our date available! Vanessa stayed in contact and was helpful in everything from payments to changes. We even added our dessert on last minute with no issues! I've recommended TLP to many already and I hope I can enjoy their food at another event soon!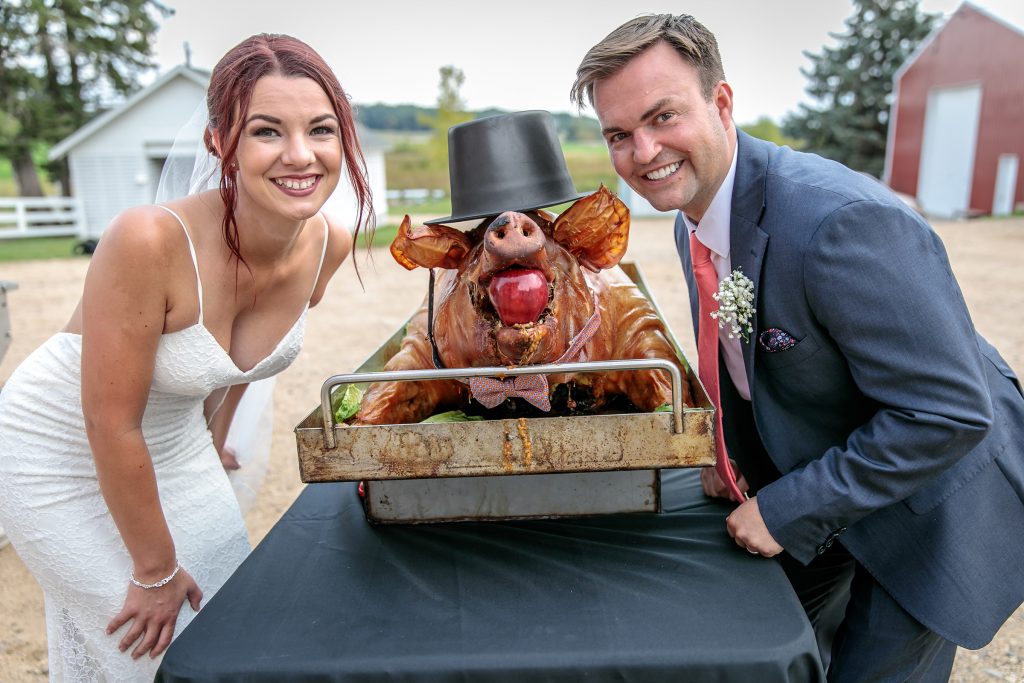 The food was so good! Everyone kept commenting on how delicious the food was. The lobster Mac and cheese is a huge hit! The service was wonderful and the staff were friendly!
The best part was the overall coverage you gave us. There was always extremely friendly contact from day one through the entire wedding day. We planned out of state from Colorado. The process was super easy with the help of Vanessa. The entire staff onsite crushed it and was so friendly and nice. There were also a few times when you kicked us into gear to get the process of choosing/paying moving.
Distinctive was so helpful the entire process! Vanessa made sure to take care of all of my requests and never made me feel like an inconvenience. I would highly recommend Distinctive to anyone!
Our guests loved the food and so did we! We were so impressed with the professionalism and service!
My husband and I live in Chicago and got married in Minnesota-to say it added to the stress of planning a wedding was an understatement. Our trips to MN became almost business like-Apples to Apples made sure to meet with us when we were there and were very good at making sure they responded timely to emails and phone calls. The wedding day went on without a problem. The food was hot, they continually brought out food so all of our guests had hot food and they worked hard to make sure people were aware of possible allergens.
I can't even begin to tell you how many compliments we received on the food! It was absolutely INCREDIBLE!
Easy to work with, awesome food!
I seriously can't say enough about Jordan. All of our guest were talking about how attentive and amazing he was. He is seriously special and was a highlight of our night. I think the guest were chanting his name at one point because they loved him so much!
The bartenders were also amazing! They were so attentive and friendly! I couldn't have asked for a better experience.
Your bar staff went above and beyond! They always made sure we were taking care of. Even brought pitchers of beer to us during pictures and had beer and champagne ready at the table for us when we sat down without even being asked.
Loved everything about it - bar staff even brought a special beer for our uncle who only drinks PBR.
Our bartenders were fabulous and made sure to keep us updated on the status of our beer and wine. Made sure we were taken care of.